Mayor Jerah R. Cordova
Jerah R. Cordova is the mayor of Belen, New Mexico. He was originally elected to the city council on March 2010, to serve a four-year term. He was first elected as mayor in March 2014 and again in March 2018.
Learn More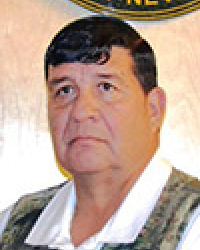 Mayor Pro-Tem Frank F. Ortega
Frank F. Ortega Sr. is a lifetime resident of Belen retired from the Belen Consolidated Schools where he spent nearly 45 years as Maintenance Director. Councilor Ortega spent ten years as Belen Fire Chief with 21 years' service to the department.
Learn More
Councilor Ronnie Torres
Councilor Ronnie Torres is one of Belen's most renowned public servants. Having served as a councilor from 1996-1998, then being elected Mayor and serving for over 12 years he has dedicated his time and energy into Belen.
Learn More
Councilor Robert Noblin
Robert C. Noblin, Jr. is 42 years old and originally from Fredericksburg, Virginia. He has been serving the needs of others in funeral service since high school. He moved to New Mexico in 2005 to purchase his business, Noblin Funeral Service & Crematory, now the largest provider of funeral and cremation services in Valencia County.
Learn More
Councilor Danny Bernal Jr
Danny Bernal Jr. is a councilor of Belén, New Mexico. He is the youngest city councilor elected to the city council in the city's history. He was elected in November of 2019 at the age of 21.
Councilor Bernal also works full-time as the supervisor of assignments at ADC LTD NM. A local New Mexican federal contractor that conducts background investigations.
Learn More